YOUNGSTERS in Neath, S.Wales tackle vandalism
Monday 9 September 2013
Homepage »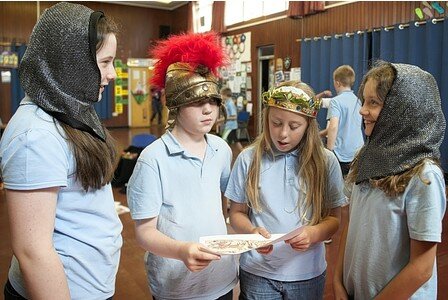 YOUNGSTERS in Neath have been getting stuck into a drama project to tackle vandalism at an historic site.
CADW, the Welsh Government's historic environment service, has kicked off a special project to engage the younger generation in appreciating the value of local heritage in the hope of avoiding future damage of the sites.
​Stepping back Pupils of Tonnau Primary School take part in Cadw's Play In A Week.
Neath Abbey has been subject to vandalism and misuse — but the project involving Tonnau Primary School hopes to give people more appreciation and understanding about the nearby historic monument.
During the past week the year 6 pupils have getting involved in the project called Play in a Week, and have been tasked with creating and directing a performance which captures stories of the monastery, which they will perform at Neath Abbey on Thursday.
Head teacher Lloyd Jones said the children involved had been enjoying every minute.
"It has been fantastic," he said.
"They have had a couple of rehearsals in the hall and they are all very excited for the performance.
"The year six pupils have been learning about the history of the abbey, the history of the times, how people felt and what they did.
"It has been all very exciting."
The programme, which is supported by Bigfoot Arts Education, is designed to empower the young people to influence how the project pans out — deciding which element of their historic site they wish to explore and how they will share what they have discovered creatively.
Director for Bigfoot Arts Education, Simon White, said: "Our programmes are designed to help children, young people and teachers learn in a fun and expressive way.
"Allowing the pupils to lead on the project and rewarding their achievements builds confidence and helps them develop key life skills.
"History is an important part of the curriculum so what better way for children to learn than through the medium of theatre, where the subject can be brought to life and really capture their imaginations?"
Minister for Culture and Sport, John Griffiths, added: "We are fully committed to providing our young people with opportunities to enjoy, learn and be inspired by our amazing history, heritage and culture.
"Programmes like this, as well as being fun, can help young people with their learning by building their confidence and developing new skills.
"Giving young people the responsibility for the success of such projects helps them develop a renewed sense of pride in their local heritage sites."
Read more: http://www.thisissouthwales.co.uk/Pupils-lesson-aims-protect-historic-site/story-19523893-detail/story.html#ixzz2eODayYFB